Products Offered
Every business has it's own unique needs. One Dry Cleaner may only need to insure their equipment and carry General Liability, if they don't own the building and aren't concerned with their equipment. Another Dry Cleaner may have multiple locations, and own their buildings, and offer pick-up/delivery services. The products recommended depend on how your business operates.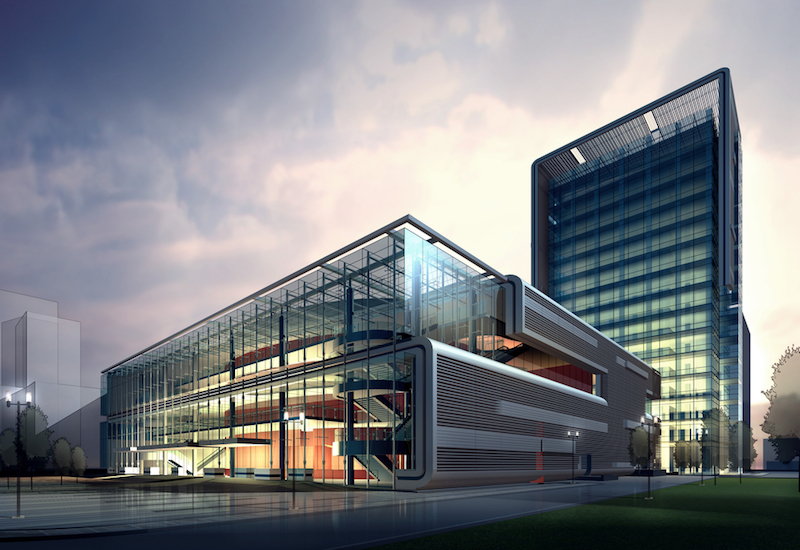 Commercial building insurance covers a building in the event of a covered loss. Depending on the coverages on the insurance policy those covered losses can include wind/hail, theft, frozen pipes and even vandalism. Commercial building insurance can be selected on a replacement cost or actual cash value basis.
Office Building, Warehouse, Car Wash, High-rise Building, Rental Property, Apartment Complex, Medical Center, Shopping Center, Restaurant

Ex: Tim owns a 4-story office building in Lewisville, Texas. Tim leases out each floor to different businesses. Tim wants to make sure the building is covered, by insurance, in case a tornado hits it or a pipe freezes and causes water damamge.
Commercial General Liability
For the most part, commercial general liability insurance has two main coverages to the policy. Premise liability insurance covers the business at a certain location (ie an office, restaurant, dry cleaner locations). Products/Completed Operations offers coverage towards products sold or services given (ie a car wash damages your vehicle or a table manufactuer has defects). More coverage is offered but those are the standards that most companies need.
Property Damage, Slip and Fall Accident, Product Liability
Ex: Jane meets a client at the local coffee shop in Frisco, Texas. She is trying to make a good impression and is moving fast. On top of that, her coffee was made three times the normal temperature due to busy hours at the shop. Jane slips on a spill and suffers burns from the coffee. Jane could have an insurance claim from the coffee being too hot and the floor being unsafe.
Commercial Vehicles
Commercial vehicle insurance, sometimes called Business Auto, ensures that the vehicles used in your company are protected. Texas is blessed with many roads under construction and several severe weather conditions. Business auto coverage may include coverage from a natural disaster, medical payments, wage reimbursements and more.
Non-Owned Vehicle, Truck, Semi Truck, Van, Car, Trailer, Box Truck, Tow Truck

Ex: Chuck in a Truck Roofing has a fleet of 19 business trucks in Denton, Texas. For some reason, one of Chuck's drivers takes his personal truck to a job-site and hits a light pole. Chuck selected coverage on his insurance policy to cover the repair of the damaged light pole.
Workers' Compensation
Worker's compensation insurance (commonly referred to as workmans' comp insurance) provides benefits for employees that sustain work-related injuries. Legal fees from a lawsuit against the company by a worker's family can also be covered.
Overexertion, Slip and Falls, Fall to Lower Level, Workplace Violence, Bodily Reaction, Struck by an Object

Ex: Fast Fast Fast Car Wash in Austin, Texas is really busy today. Ben, the new guy, is running down the car wash tunnel to help a co-worker. Ben trips over the tire brushes. Ben breaks an arm and his two front teeth . Ben is out of business for awhile and needs to file a worker's compensation claim on the companies insurance policy.
Builders risk insurance policies protect structures that are undergoing construction. This includes ground-up high-rise office building or home renovations after a fire. Coverage can include debris removal, protection for construction material, equipment going into the structure and even trees. Typically, general liability insurance is not included in the insurance policy and must be purchased seperately.
New Residential/Commercial Bulding Construction. Building Renovations/Rebuilds

Ex: Alex's business is growing and he is making an investment by building a new office, in Plano, Texas , from the ground up. Also, he decides it's the perfect time to build a new home in Frisco, Texas . Alex will need two Builders Risk insurance policies because he wants coverage for the buidlings during construction in case of a fire, hail storm or theft of materials.
Business Personal Property
Business personal property insurance provides coverage for everything that's not a business building. Whether you're a dry cleaner looking to cover customers clothing or a sales rep working from a home office, this coverage is for you. Also, did you know that if you have a piece of equipment that is broken and causes you to lose revenue you can get coverage for lossed income? It's all under business personal property insurance.
Computer, Tools, Desk, Machines, Inventory, Fixtures

Ex: XYZ Jewelry Warehouse in Flower Mound, Texas just received their holiday inventory. Someone wanted it more than them, broke into the warehouse, stole inventory and started a fire that damaged an appraisal machine. $750,000 in inventory was stolen from their business. An insurance claim was filed for the stolen inventory, the appraisal machine and loss of income from the appraisal machine being down.